The subject of this article:
exists in the Forrest Gump novel canon (including Gump & Co.)
is not mentioned in the Forrest Gump film canon
exists in real life (see Wikipedia article: Tom Hanks)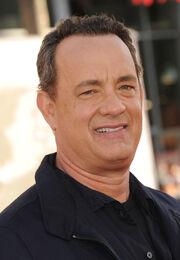 Tom Hanks is an American actor. He played Forrest Gump in the movie by the same name. He has no role in the novel off of which the movie was based; however, in the sequel Gump & Co., he appears as a character, playing himself.
In Gump & Co.

[

]
Forrest Gump meets Tom Hanks at Elaine's restaurant in New York City. Tom Hanks tells Forrest someone should write a movie about his life, and also says "Life is like a box of chocolates" - while this phrase is pervasive in the film and media surrounding it, this was the first and only time it was uttered by any character in the novel canon.
External links
[
]