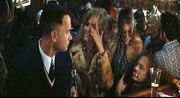 The subject of this article:
is not mentioned in the Forrest Gump novel canon (including Gump & Co.)
exists in the Forrest Gump film canon
"Long-Limbs Lenore" is one of two sleazy women (the other being "Cunning Carla") who Lieutenant Dan frolicks with on New Year's 1972.  When she sees Forrest she asks Lt. Dan who his friend is to which Forrest replies My name is Forrest Forrest Gump and Lt. Dan introduces Forrest to Lenore and Carla.   Lenore then takes out her makeup and then points to a place on tv and tells Lt. Dan and Forrest that she and Carla were just there at Times Square.  She then asks Forrest if he loves New Years and because he can start all over and that everyone gets a second chance.  When the ball drops Lenore and Carla wish Forrest a happy new year and kiss him on the cheeks.   Afterwards Lenore, Carla, and Forrest  go with Lt. Dan back to his hotel room where Lenore tries to makeout with Forrest by grabbing his crotch to which Forrest stands up nervously and accidently causes Lenore to fall down to which she stands up angrily and asks Forrest if he's stupid or something and if he lost it in the war or something.   When Carla asks Lt. Dan if Forrest is stupid or something he throws her on the bed and tells her not to call Forrest stupid and Lenore tells Lt. Dan not to push Carla to which Lt. Dan kicks both girls out and accidently falls out of his wheelchair during the process and Lenore calls him a loser and a freak and then leaves with Carla.   Lenore is played by Marla Sucharetza.
Community content is available under
CC-BY-SA
unless otherwise noted.