(Reword, cut out-of-scope information)

Line 5:
Line 5:
 

}}

 

}}

 

[[File:Lennon-gump.jpg|thumb|John Lennon (left) on the Dick Cavett Show with Forrest Gump.]]

 

[[File:Lennon-gump.jpg|thumb|John Lennon (left) on the Dick Cavett Show with Forrest Gump.]]

 
+

'''John Lennon''' (October 9th 1940 - December 8th 1980) was a British musician in the popular British Group [[Wikipedia:The Beatles|The Beatles]]. [[Forrest Gump]] met John Lennon in the ''Forrest Gump'' [[film]] when he was invitited to be on [[The Dick Cavett Show]] after returning home to the United States from [[China]] playing [[ping-pong]].

−

'''John Lennon''' (October 9th 1940 - December 8th 1980) was a British Musician. He formed the popular British Group The Beatles in 1960 with Paul McCartney, Ringo Starr, and George Harrison and the group had their first big single in 1962 "Love Me Do" and wrote many popular songs such as "Here Comes The Sun" and "Let it Be" The group broke up in 1970. Forrest Gump met John Lennon when he was invitited to be on The Dick Cavett Show after returning home to the United States from China playing ping pong. Cavett introduces Forrest to John and John tells Forrest Welcome home. Cavett and Lennon ask Forrest what China was like to which Forrest replies In the Land of China People Hardly Got Nothing at All to which Lennon asks No possessions? And Forrest also tells them that in China people don't go to church to which Lennon asks No religion too? And Cavett says Hard to Imagine to which Lennon says Well it's easy if you try Dick. Lennon was married twice first to Cynthia Powell from 1962 until their divorce in 1967 and together they have a son Julian born in 1963. Lennon married his second wife Yoko Ono in 1969 and they stayed together until his death in 1980. They have one son Sean born in 1975. On December 8th 1980 John and Yoko were returning to their apartment The Dakota in New York City after spending the day in the recording studio recording Yoko's song "Walking On Thin Ice" when a crazed fan named Mark David Chapman shot Lennon, killing the former Beatle at the young age of 40. Forrest described this event from the park in Savannah Georgia as "Some years later that nice young man from England was on his way home to see his little boy and was signing some autographs. For no particular reason at all somebody shot him."

 
 
+
 
+

Cavett introduces Forrest and John to each other, then asks Forrest what China was like to which Forrest replies In the Land of China People Hardly Got Nothing at All to which Lennon asks No possessions? And Forrest also tells them that in China people don't go to church to which Lennon asks No religion too? And Cavett says Hard to Imagine to which Lennon says Well it's easy if you try Dick.

 
+
 
+

Forrest, narrating his life story at the [[bus stop]] in [[Savannah]], Georgia, explains then how John Lennon was later [[Wikipedia:Assassination of John Lennon|assassinated]] "for no particular reason at all".

 

[[Category:Characters]]

 

[[Category:Characters]]

 

[[Category:Assassination targets]]

 

[[Category:Assassination targets]]
---
Revision as of 18:46, 20 February 2014
The subject of this article:
is not mentioned in the Forrest Gump novel canon (including Gump & Co.)
exists in the Forrest Gump film canon
exists in real life (see Wikipedia article: John Lennon)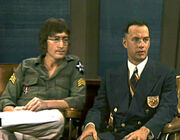 John Lennon (October 9th 1940 - December 8th 1980) was a British musician in the popular British Group The Beatles. Forrest Gump met John Lennon in the Forrest Gump film when he was invitited to be on The Dick Cavett Show after returning home to the United States from China playing ping-pong.
Cavett introduces Forrest and John to each other, then asks Forrest what China was like to which Forrest replies In the Land of China People Hardly Got Nothing at All to which Lennon asks No possessions? And Forrest also tells them that in China people don't go to church to which Lennon asks No religion too? And Cavett says Hard to Imagine to which Lennon says Well it's easy if you try Dick.
Forrest, narrating his life story at the bus stop in Savannah, Georgia, explains then how John Lennon was later assassinated "for no particular reason at all".