The subject of this article:
is not mentioned in the Forrest Gump novel canon (including Gump & Co.)
exists in the Forrest Gump film canon
exists in real life (see Wikipedia article: Curious George)
Curious George is the name of a children's book which is owned by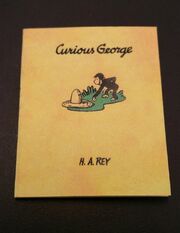 Forrest Gump. Sitting at the bus stop in Savannah, Georgia, he picks up a passing feather and places it in the book.
At the end of the film, he gives the book to Forrest Gump, Jr. and the feather falls out and flies away.